14/04: Data Platform Innovation: Industry Leading Practices
Availability and Applications of Data have emerged as a business innovation engine of the present time and for the foreseeable future.
Data Platforms are a conglomerate of Business Requirements, Architectures, Tools & Technologies, Frameworks, and Processes to provide Data Services. Hence, the Data Platform Innovation foundation is from people, processes, and technology managing and utilizing an enterprise Data Platform. In the article, I have organized the emerging Industry Leading Practices into seven Pillars to maximize data value at speed in an enterprise environment.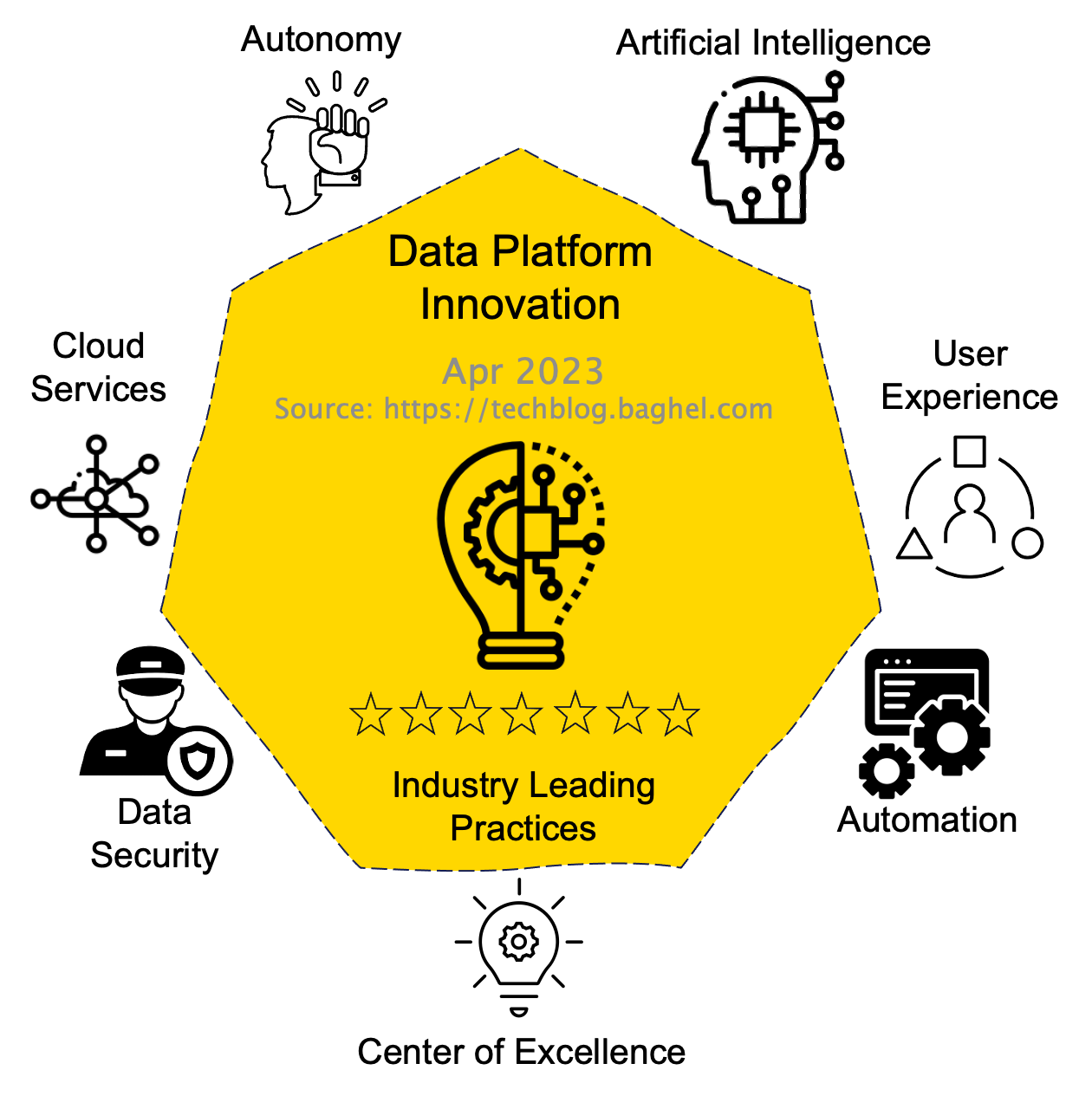 Pillars - Data Platform Innovation: Industry Leading Practices


Autonomy

Implement Data as a Product with an operating model that establishes data product owner and team.
Support Data Democratization utilizing Distributed Data Architecture and Data Mesh.
Enable end-to-end service delivery ownership to the Data product owner.



Artificial Intelligence (AI)

Create a raw Data copy availability to enable AI Data Models yet to be discovered.
Utilize AI Tools to manage Data identification, correction, and remediation of Data quality issues.



User Experience

Create and manage data literacy and data-driven cultural activities for employees to learn and embrace the value of data.
Enable data navigation and data research tools for employees.



Automation

Utilize DataOps at the heart of provisioning, processing, and information management to deliver real-time use cases.
Implement automatic backup and restoration of Data and digital twins of the Data estate.



Center of Excellence

Shift from stakeholders' buy-in approach to delivery partners' approach that finds and enables innovation.
Create Data Eco-System utilizing Data Alliances, Data Sharing Agreements, and Data Marketplace to develop an Enterprise Data Economy.
Publish Common Data Models, Policies, and Processes to promote ease of collaboration within and across organizations.



Data Security

Contribute actively to individual data-protection awareness and rights.
Communicate the importance of data security throughout the organization.
Develop Data privacy, Data ethics, and Data security as areas of competency, not just to comply with mandates.



Cloud Services

Cloud First mindset for quickly exploring and adopting innovation at speed with minimal sunk cost once that becomes mainstream. Let the business model drive the Cloud equilibrium.
Enable cloud for flexible data model tools supporting querying for unstructured data.
Enable edge devices and high-performance computing available at Data sources to deliver real-time use cases.
Disclaimer

The thoughts expressed in the blog are those of the author and do not represent necessarily the official policy or position of any other agency, organization, employer, or company. Assumptions made in the study are not reflective of the point of view(s) of any entity other than the author. Since we are critically thinking human beings, the point of view(s) is always subject to change, revision and rethinking at any time. While reasonable efforts have been made to obtain accurate information, the author makes no warranty, expressed or implied as to its accuracy.